Location

Group of islands between 74° - 81° N and 10° - 35° E. about 1,000 kilometres north of Norway in the Arctic Ocean.
Area
63 000 sq.km.; 60% covered by glacier
Largest islands
Spitsbergen, Nordaustlandet, Barentsøya, Edgeøya and Prins Karls Forland
Settlements

Longyearbyen (Norwegian administrative centre) 2 080 inhabitants
Barentsburg (Russian mining community) 500 inhabitants
Ny-Ålesund (Norw. international research centre) 40 inhabitants
Sveagruva (Norwegian mining community) 210 commuters
Hornsund (Polish research station) 8 inhabitants

Administration
Norwegian sovereignty, regulated by the Svalbard Treaty of 1920.
Transportation
By plane from/to Oslo and Tromsø, Norway.
There are no roads connecting the communities on Svalbard.
Climate
Spitsbergen is an Arctic Desert. It is in complete darkness from about mid October to mid March. On April 5th this year the first day of my trip the weather was -35 degrees with a strong wind chill making for -43 degrees!
Transportation
By plane from/to Oslo and Tromsø, Norway.
There are no roads connecting the communities on Svalbard.
Longyearbyen
Longyearbyen is the seat of local government and Norway's main administrative centre on Svalbard. The small colourful community of approx. 1800 inhabitants has developed from being a typical mining company town into a modern community with different kinds of business and industry and with a wide range of cultural activities and opportunities. In general, the population of Longyearbyen is rather young, families with many small children.
Leisure and cultural activities abound. Since there are no roads between the settlement areas on Svalbard, snowmobiles and boats are a common means of transportation. Locals are very fond of outdoor activities, as well as taking weekend trips to cabins and huts.
Most Polar Expeditions start and finish in Longyearbyen. Conditions are a good facsimile of the Pole and also it is the base for Centre Polus, the Russian Polar Logistics company.
Staying safe in Svalbard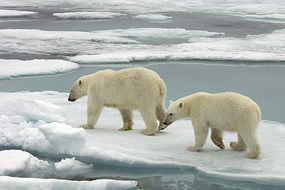 The biggest threat on Svalbard is polar bears (isbjørn), some 3,000 of which inhabit the main islands at any one time. Five people have been killed by polar bears since 1973, and if travelling outside settlements you are required to carry a rifle at all times to protect yourself. They can be rented for 100 kr and up per day, no license needed, although experience in using it is very strongly advised (or, better yet, stick to guided tours). It is important not to underestimate the speed of polar bears (you can not outrun them). Polar bears can be extremely unpredictable and are far more dangerous than European brown bears.
The harsh Arctic environment also poses its own challenges, particularly in winter. You need to beware constantly of the danger of frostbite in the face (nose and cheeks), fingers and toes, particularly in low temperatures with wind (such as high speed on snowmobile). Crossing glaciers and rivers can be hazardous and travelling with local guides is strongly recommended. If heading out on your own, informing the Governor of Svalbard about your route and expected duration is highly advisable. For any trips outside central region of Spitsbergen, you must notify the Governor, and may be required to purchase insurance or put up a large deposit to cover possible rescue costs.